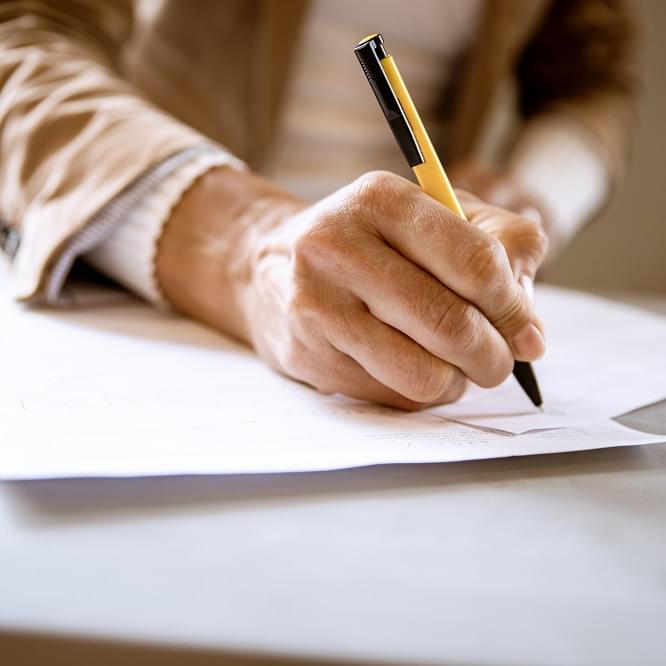 How to Apply For Social Security Disability Payments
If you think you may qualify for monthly disability benefits, what's the best way to file your application? Who processes your claim, and how long does it take to fill out all that paperwork? Is there any good reason to pick one application method for disability benefits over another? You have four different ways you can apply for Social Security disability. Learn the pros and cons as well as how long each application method might take you below before you decide.
More Guides
Have a Social Security Disability Advocate or Attorney File Your Claim

You can sign up for a free, no-obligation legal consultation with a local disability attorney before starting your application. This gives you an opportunity to get confidential answers to all your claim questions and potentially avoid basic paperwork mistakes.

Pros: Having a lawyer file your claim makes you 3x more likely to get approved for benefits right away. Plus, an attorney can potentially get your first disability payment delivered within weeks or months instead of years! And if the government refuses to approve your claim, you'll owe the lawyer $0 in legal fees.

Cons: If approved, you'll have to pay a small, one-time fee deducted from your lump-sum back payment. Federal law limits this amount to no more than 25% of that one-time payment, or $7,200 - whichever is less. In the past year, attorneys helped at least 275,000 people get Social Security disability benefits. The average fee each client paid for legal assistance was $3,112.25.

Timeline: Only your attorney can give a realistic estimate of how long it might take to complete your application. This is a good question to ask during your free, no-obligation consultation!

Apply On Your Own, In Person, at Your Local Social Security Office

If you decide to go this route, we strongly recommend making an appointment first! That way, you and the agent who's helping you will block off enough time to fill out your claim forms. Be sure to bring two forms of ID (one with a photo), your complete medical records and banking information. You may also need birth and/or death certificates, divorce decrees, etc. (but only if they apply to your claim).

Pros: If anything's unclear, you can take notes or ask questions that apply to your own specific situation. The agent can explain any form fields, questions or other information that may confuse you when completing your application. Plus, you can skip waiting in line if you show up a few minutes early for your scheduled appointment!

Cons: Even if you come fully prepared with everything you need to apply, plan to spend almost all day here. Local SSA office staff cannot give you legal advice or tell you what to write down. Some offices don't accept appointments, and you may live more than an hour from the nearest location. You also can't take the Social Security disability claim forms home with you to fill out at your convenience.

Timeline: Expect to spend no less than 4.5 hours to longer, likely involving multiple in-person visits over days, weeks, or months.

Apply On Your Own Over the Phone

You can also call the SSA's toll-free number from 7am-7pm, Monday through Friday to apply for disability benefits. To do this, call 1-800-772-1213 (deaf or hard-of-hearing applicants, use TTY number 1-800-325-0778 instead).

Pros: If you have mobility issues, don't have access to reliable transportation, etc. you can apply on your own this way. It's also free, and you can do it from any phone during business hours.

Cons: People with a set number of paid minutes per month on their phones may run out before completing their application. It'll take at least 4-5 hours, minimum, so you need to know this before you call! In addition, you're calling the national 1-800 number for help. If the call drops or you accidentally hang up, you'll get a different person each time you call back. You may waste time stuck on hold or have trouble understanding the questions you must answer. There's also the risk that whoever's filling out your application on the other end will misspell or mis-type your information. This could result in your claim's denial the first time you apply.

Timeline: Plan to spend anywhere from 6-10 hours total applying over the phone. You can't just call and ask them to mail you the application, either. Instead, you must answer each question and provide answers as you go along. The application forms are at least 17 pages, so you may wish to take breaks for meals, use the restroom, etc.

Apply On Your Own Online Through the SSA's Website

If you have unlimited internet access, a reliable computer, and some patience, you can apply online through the SSA's website. This method means you're applying 100% on your own, so double-check that everything you type is correct before you submit! Please note that this method is only available to new disability applicants. In other words, you cannot appeal your claim's denial online through the SSA's website.

Pros: You can start or stop your application anytime and save your progress as you go. You can upload copies of important documents directly from your computer, when applicable. Plus, you can finish the disability application process in the privacy of your own home whenever it's most convenient.

Cons: You must still mail the SSA some original documents, such as your birth certificate, passport or military service records. If you have costly or hard-to-get you're not comfortable sending through the mail, applying online is not for you. You will still receive the SSA's decision to approve or deny your application through the mail, not online. Applying online doesn't make your claim review go any faster and is often difficult for blind applicants to complete.

Timeline: Since you're going at your own pace, you can take as much or as little time as you need. Some people who apply online use the full five months of their required wait time to complete their paperwork.